November 30, 2013
Beethoven, it turns out, was a cantankerous punk rocker. He fought with musicians in orchestras he was conducting and wrote passages that were too fast to play. He wanted the soloists to play with fire in their hearts, and if they skipped a few notes, it was okay as long as the emotional maelstrom of his music came across.
Radiolab had a feature this week, Speedthoven, on the composer's late-in-life compositions, his deafness, and the long-standing myth that his metronome was busted.
​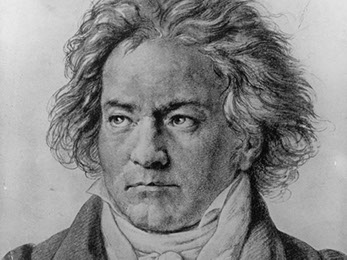 Spoiler: it wasn't.
November 29, 2013
There's a musical on Broadway called Kinky Boots. It's about a square, conservative business owner who ends up joining forces with an extravagant transvestite and -- BINGO! -- the company is a big success. The underlying message is tolerance, acceptance and kindness. It's this year's Hairspray. Bright, happy, self-referentially gaudy, fun, and...the aforementioned tolerance-and-acceptance message.
On the telecast for yesterday's Macy's Thanksgiving Day Parade, the cast of Kinky Boots did their thing.
Some seriously mean conservatives didn't dig it.
Here's a sample tweet from someone named Jenni Blockey: "I'm no prude but Kinky Boots is part of the parade? That made for some awkward learning experiences for kids today." Another frightened crusader, a certain Jonathan Becker, tweeted "[n]ow I have to explain 'Kinky Boots' to my kids. Thanks, Macy's."
Yeah, so sad for Jenni and Jonathan. How "awkward" and "hard" it must be to explain those awful concepts of "equality" and "fairness" and "fighting prejudice" to the little ones. Next thing you know, the holidays will start in on crap like "good will toward men" and "peace."
What's the world coming to?
It seems the far tougher job will be explaining those things to Jenni and Jonathan. Message to the rest of us: good luck with that.
'Tis the season, alas...
November 28, 2013
Happy Thanksgiving, everyone.
Thanksgiving scribings can be full of clichés and maudlin sentiments. No matter how pure, heartfelt and genuine, it feels like a confessional reading all the things columnists, bloggers, and radio-interviewed people are thankful for.
Even the notion of ghettoizing mass thankfulness into the fourth Thursday of November is weirdly constricting. Are we blithely ignorant of our good fortune and friends the rest of the year?
This is not to disabuse folks of the notion of being thankful. Goodness knows we are, for all manner of things having to do with family, friends, our fortunate outcomes and close brushes, and of course the band.
It's fair to ask, though, if we're not being appreciative enough the rest of the year. Whether it's awards shows, religious contemplation or Thanksgiving, we seem to have compartmentalized and encased thankfulness to very specific moments...moments set by the calendar rather than our beating hearts.
There...a Scrooge-esque screed for today's feast, family and friends happiness.
Seriously -- have a good one.
November 27, 2013
Scott here...
My main guitar is a black 1972 Fender Telecaster Thinline. It was originally a wood-grain finish that got painted cherry red and again got painted, a dull black so haphazardly applied that brush strokes are visible and, in sunlight, blanches to a murky brackish olive.
It's the first thing I grab if the house is on fire -- after my gal, our dog and cat.
Its backup is a brown wood-grain 1990 Fender Tele Thinline reissue. I also have a turquoise mid-'90s Epiphone Riviera with a Bigsby whammy bar, my main guitar for recording but terrible on stage because it goes out of tune so easily. Completing the roster is a black Fender Jazz bass, an '80s Yamaha acoustic model and a Fender mandolin. Lots of Fenders, mainly 'cause they look good and as John Cameron Swayze used to say, take a lickin' and keep on tickin'.
Sounds like a lot of geetars. But it's not, really. I'm not a geetar nerd. I have what I have, they do the trick, and if I never lose one of these I'll never need another one. They cover all the ground my pugilistic six-string stylings could ever require.
There are weekend warriors who buy expensive models and keep 'em down in their basement rec rooms, sequestered and still, their strings silent and still. Their stylish tweed cases feel like coffins to guitars that never get played. And of course there are guitar-slinger pros who have a different model for every contingency.
My guitars are all beat up. Come see RebelMart and you'll see why. Still, none of them have the extraordinary history of Willie Nelson's wonderful guitar, Trigger.
This article, from Texas Monthly, is a fine read -- the story of a pair of musicians: Willie and Trigger. A fine, fine read.
​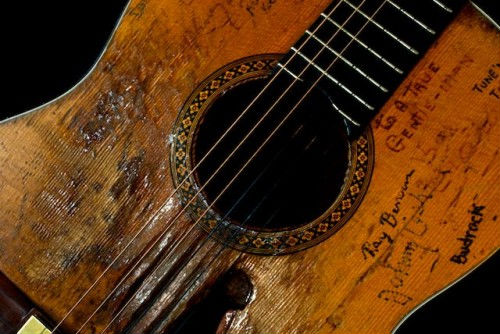 November 23, 2013
Two items:
WHO'S MORE POPULAR, ROB FORD OR BARACK OBAMA?
According to separate polls conducted in Canada and the U.S., crack-smoking/wildly-gesticulating/cunilingus-loving Toronto mayor Rob Ford ranks higher in Canadian hearts than website-malfunctioning/hard-to-convince-people/birth-certificate-not-good-enough President Barack Obama does here with the U.S. citizenry.
A large portion of the U.S. populace never gonna give Obama a chance. Much as he's tried to make nice with conservatives, they only paint him as unreasonable, arrogant and a commie. He might as well have actually been all of those things and steered the country into healthier places.
Instead, the president has mangled his agenda so badly that righties can't stand him and lefties don't have his back. The writing was on the wall as soon as he took the oath of office. Obama simply ignored it and tried to accommodate everyone. The GOP's goal since 2008 was to simply destroy Obama. The GOP's scorched-earth policies and the president's lack of spine is why we're in the morass we're in now.
It's popular to take the Jon Stewart position -- everyone not perfectly in the middle is crazy and obstructive. Talking calmly is good, but the middle of the road is never, ever where real change happens. We might not agree with opposite political ideologies, but it's better to have a beer with the other side than someone who sits smugly and do-nothingly in the middle.
One other note on this: being madder at someone for trying to improve peoples' health care, however imperfectly, than at an inept laughingstock like Rob Ford is a sad place for Americans to be these days. Perspective is always good to have, even when it goes out of style.
WALMART SUCKS
This next thing is just plain sad: WalMart, Sears, Children's Place and other U.S. companies are refusing to help the families of the 3,000 Rana Plaza workers in Bangladesh who died or were injured when the factory collapsed earlier this spring. Those companies were making profits off cheaply-made products they had contracted for.
It's not like no companies want to help. Ireland's Primark and the Dutch/German company G&A are heavily involved in helping the families, according to the New York Times. Key quote from the story:
"Compensation is so important because so many families are suffering — many families don't have anyone left to support them," said Kalpona Akter, executive director of the Bangladesh Center for Worker Solidarity. "There's been a good response from some European brands, but so far none of the U.S. retailers have agreed to pay a single penny for compensation."
WalMart claims the factory wasn't producing anything for them at the time of the disaster. But papers found in the factory show that on the day of the tragedy, 55% of the factory's output was for WalMart.
WalMart's awful. Just awful. Remember that this holiday season.
November 22, 2013
Today's the 50th anniversary of the Kennedy assassination.
Okay, there were two of those. John F's is today. Five years from now is his brother Bobby's.
There's coverage everywhere. This morning's Seattle Times nailed it with the headline The Day Boomers Will Never Forget. It's true -- this means something to the baby-boomer generation, something younger ones might resent a bit.
It's one thing for people younger than World War II fighting age to constantly hear that there'll only ever be one Greatest Generation -- and that'll never be us. It's another thing when the drumbeat says that no breaking news story will knock your socks off the way the reports out of Dallas fifty years ago did.
Um...9/11, anyone?
At least during World War II, the nation all pitched in. Soldiers fought, their families put Gold Star banners in the windows, everyone dealt with rationing. On November 22, 1963 it was hearing a newsflash and reacting.
The entire notion of Where Were You When You Heard About...? is fairly new. It doesn't come into play until most of the nation had access to news. Pearl Harbor in 1941 was the first. JFK the second. 9/11 the third. We're talking about the entire nation drawn into collective consciousness by the undertow of disbelief and shock.
Where Were You? is powerful and inclusive because our routine day-to-day predictability gets greatness thrust upon it. Hearing an overwhelming news bulletin burst from the radio while you're getting a haircut, someone gasping in line at the grocery, a co-worker impulsively shouting "Hey, did you just hear?..."
That mundane moment is drafted into our own narrative and we bestow greatness upon it. Previously ordinary, we all become party of history. A shared history that the world will never forget.
We get to be part of the time capsule.
It's more complicated, of course. JFK, all Camelot and Space Age excitement, was the perfect atom-collider for the boomers' moment in history. Historians disagree over how much fundamental society change Kennedy had in the works. The U.S. in 1963 was intense -- the Bay of Pigs and the Cuban Missile crisis were still fresh, the civil rights movement was scaring the bejeesus out of most white people, Cold War paranoia was rampant and Vietnam spinning out of control. The Old Guard was in serious emergency mode and deploying Operation Freak The Fuck Out as fast as it could.
The Occam's Razor notion that the simplest explanation is the most plausible certainly covers Lee Harvey Oswald as the lone assassin. But honestly, given the maelstrom of the times, this explanation in Oliver Stone's JFK is just as plausible:
It's just as plausible because so many of us believe it is. We might not endorse Stone's view, but we wouldn't put it past our government to do such a thing
It's much more than boomers' nostalgia today. The JFK assassination was the starter's pistol as the nation charged headlong into a new era of paranoia.
It was the moment we stopped believing what we could see. Before Dallas, 1963, the country was split into two camps: those who the government favored and those it didn't. After that, a third enormous sector emerged -- those it couldn't control the narrative for. Media started reporting it (Watergate), and we started thinking things through. We learned enough that conspiracy theories didn't sound so far fetched.
To this day we listen to those theories because most Americans today believe that our government is capable of extraordinary malfeasance. We don't agree on what malfeasance it is, of course, but we know smoke means fire.
The real Where Were You...? that today is the 50th anniversary of is Where Were You When You Started Seeing The Power Structure For What It Is?
November 21, 2013
You could see it coming.
Jay-Z can't last forever.
Maybe Shawn Carter's impending demise wasn't as obvious as Toronto's colorful trainwreck of a mayor, Rob Ford. Still, events move faster than any one person.
For a self-styled kingpin, they move all the more briskly.
All it takes is a smidge of vincibility, a single misstep. It's the celebrity circuit's version of a butterfly flapping its wings along the coast of western Africa -- one imperceptible moment, and before we know it, Hurricane Katrina is bearing on down on the Gulf Coast.
For a celebrity, it's the approaching dissipation of cred and cool.
During the '00s Jay-Z participated in a land-grabbing/eminent-domain-abusing/poor-people-harming mega real-estate deal in Brooklyn by purchasing 1/8 of one percent of the then New Jersey Nets. During the Occupy Movement's heyday his Rocawear line of Occupy All Streets tee-shirts either deftly embraced Occupy's politics or cynically exploiting the moment to sell the product.
Seemed like the latter when Jay told the media he actually didn't like Occupy because he realized they were gunning for One Percenters, that rarified crowd he's one of.
When his kid Blue was born he took over an entire maternity ward of a hospital so his partner Beyonce could give birth. His security guards barred fathers from seeing their own newborns on the same ward. Mr. Z announced that he'd stop using the word "bitch" on his recordings because now he had a baby girl.
Earlier this year, Jay released a new CD, a bloated paean to himself more notable for the NSA-like data fishing Samsung used it for than the music itself -- it was a critical failure. Now, he's in bed with a company that's been racially profiling African-American shoppers, Barneys New York.
Oh, and Jay's back to using the word "bitch" on his recordings.
Regarding the Barney's thing, here's some of Mr. Shawn Carter's Barney's line of attractive, necessary and fairly priced items:
​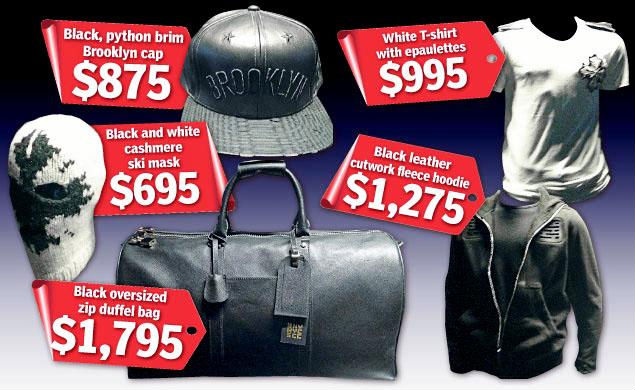 The collection has been unveiled to a resounding thud or gaping yawn, depending on the report. Wait'll you see what RebelMart's merch table's gonna price our buttons, stickers, badges and t-shirts at. We might top single-digit mark on the t-shirts alone!
Do we delight in seeing the mighty tumble. Only when they deserve it. When you push a boulder to the top, it'd better not crush people during the ascent.
You wanna hang with Warren Buffet and Michael Bloomberg and sell thousand-dollar tee-shirts and claim you're a player and not just a playa? Be our guest. That's the gilded bed you've made for yourself. The "both ways" people up there in the thin atmosphere want to have it makes it hard to set one's moral compass.
Jay proudly pontificated that "he's a business, man." Part of being a business, man, is the potential to bankrupt one's morals. In this recession, it's easy to do, and Jay's greased his own skids.
Don't let that ten-thousand-dollar designer screen door hit you on the way out, Mr. Shawn.
November 19, 2013
With all that's going on in the world, sometimes a song makes the day a little bit better.
Here're the Ohio Players' "Fire," The Spinners' "Rubberband Man" and the Five Stairsteps' "Ooh Child."
Our day just got a little bit better.
​
November 17, 2013
It's official -- Kshama Sawant, a bona fide and unapologetic socialist, has won a seat on the Seattle City Council.
Her opponent, the four-term incumbent Richard Conlin, has thrown in the towel after Sawant's stunning comback after Election Day, which saw her on the losing end of a 53-46% vote.
Seattle has an all-mail-ballot system, and a lot of people still vote on Election Day [me included -- Scott]. The past week-and-a-half, Conlin's lead shrank and shrank. Then, a few days ago, it was gone. Sawant had a 41-vote lead, then a few hundred, then a thousand-and-a-half.
What national press there's been has been disingenuous on a couple of levels. One, they're not reporting it much at all. Two, they're assuming that because Seattle is one of the nation's most liberal cities, a socialist candidate isn't much of a stretch -- sorta like a tea party candidate beating an establishment Republican in Alabama.
​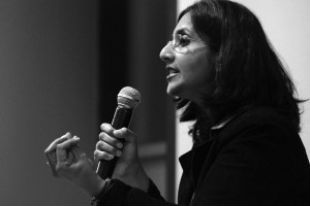 It's not like that at all.
This is a country that skews conservative to middle of the road. Just because Dems have the White House and one of two congressional chambers, and the GOP is on the ropes these days, doesn't mean that the U.S. is a left-wing workers' paradise. An unabashed socialist winning a big city election is still a very big deal in America today.
Tea party candidates run on the Republican ticket. Kshama Sawant isn't a progressive running on the Democratic Party ticket. She rejected the Democrats entirely, running and winning as a socialist representing the Socialist Alternative party.
Seattle is liberal, yes. But liberal is nothing like socialist. Seattle skews progressive (legalized pot and gay marriage, recently) but like any other big city in the U.S. is run by big corporations (Microsoft, Amazon, Starbucks and the reprehensible Boeing), big real-estate interests, and a cozy old guard political system. The political establishment here cuts public programs like free bus services, dithers on social safety-net initiatives, and throws tax breaks and public money at rich-people's playthings like a new basketball arena for a new NBA franchise. The Seattle Police Department is one of only a handful that the U.S. Justice Department has deemed so bad on civil rights that it had to step in an fix the department.
What's most amazing, and grand, about Sawant's victory is that she did it by promoting her socialist credentials and beliefts -- and not by soft-selling them. Would she have done this well in righter-leaning cities? The conventional wisdom says no, but in these hard times, that sort of thinking is too conventional and not particularly wise.
​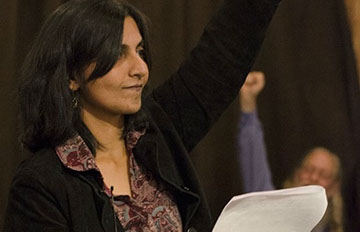 A lot of people reject socialism on what they think it is, not what it can actually do. There's a lot of fear cooked up about a way of thinking whose main tenant is "do what you want but let's make sure no one falls through the cracks." Sawant is eloquent and determined, and she connected with voters from all communities in this city.
Perhaps the City Council's old guard is worried about Sawant walking through those members-only doors. They won't be able to shush poor-peoples' issues the way they've gotten used to doing. Sawant says her first task after getting sworn in will be to introduce a $15 city-wide minimum wage in Seattle -- much like the one that's holding on by a hair down in the city of SeaTac.
With Sawant aboard, the status-quo is being pushed out at City Hall. Her presence will shine bright lights on how things are done in Seattle governance. More people than ever will watch what goes on. Sawant will certainly give a voice to people who long ago were locked out, many of whom gave up hope that government would ever accept its madate to work for the people.
It won't be easy for Kshama Sawant. Good things never are.
Here's a toast to a seriously audacious new beginning here in Seattle.
November 14, 2013
Big props to the International Association of Machinists Local 751, who stood tall yesterday by voting down a disgraceful contract offer from Boeing. Moreover, they took down union leadership who'd cozied up with Boeing's CEO -- a man whose pension will earn him $250,000 a month -- a month! -- while insisting that the machinists' pensions be slashed.
Boeing has been abandoning the Puget Sound area workforce over the last several years. They moved their corporate headquarters to Chicago, and has been opening assembly plants in non-union "right-to-work" states (South Carolina, Alabama). The current offer to the machinists is tied to a big new project -- building Boeing's new 777X aircraft. Boeing has been dangling the project as a carrot-and-club approach to the machinists, saying in effect "take our crap offer or we'll move it to a non-union state -- and away from you."
It's a union-busting move. Boeing is trying to villify the union. They ran a huge two-page ad in yesterday's Seattle Times to promote a kind-and-benevolent Boeing. The ad wasn't for union rank-and-file, who already knew what a terrible off it was. Boeing spent that money to convince the general public that a union NO vote would be the union's fault -- and worse, would take all that business away from the Puget Sound region.
​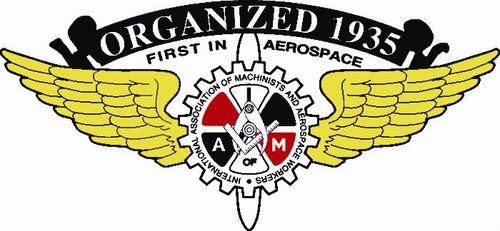 At the same time, Washington governor Jay Inslee and the state legislature gifted to Boeing the biggest package of tax breaks in the history of the United States for the 777X project. The package is contingent on the union approving the deal. Boeing's numbers-crunching has them believing it's more profitable to forgo the biggest tax-break benefits ever and build in a non-union location.
Which means all of this is a big winged red herring from Boeing.
Many union members voted NO because the offer would leave younger union members worse off. So not only were their votes about their own households, but those of newer members -- and workers not yet even in the union.
A popular take whenever a union stands up for workers rights is that they're "radical" and "naive" and "getting bad advice." How come Boeing isn't being tagged with similar tags? How about "brutal," "greedy" and "money-obsessed?"
The union did get bad advice from their lame leadership. In this case, they ignored it and stood up for workers everywhere.
November 12, 2013
Camo jerseys, appliques, decals. Tweets for the soldiers and sailors. Military-family charities. Athletes telling us to support the military lock, stock and barrel. Stadium spectacles that rival Chinese and North Korean propaganda fests.
Sports in the U.S. is conservative in its political orientation. If you don't buy into very specific hegemonies, if you don't pray to a New Testament god, if you don't embrace machismo and varying degrees of sexism and homophobia, you're an outlier.
This is a topic that goes all over the map -- race, class, culture, aethetics, gender, sexual orientation, violence, propaganda, political spectrums, power, and always -- always -- money.
For now, this piece by Justin Doolittle in Salon.com is a good starting point.
November 7, 2013
Ian Hill has a heart of gold.
Sadly it's the wrong kind of gold for this day and age.
Ian, you know, is RebelMart's bass player, and recently he's been making a magnificent effort to buy the Comet Tavern -- a Seattle rock'n'roll landmarkt that closed several weeks ago.
Ian's mission was simple. Forging a competitive bid out of passion, smarts and just enough money, Ian was going to re-open the Comet and make it right again. The Comet is the proto rock tavern -- decidedly off 2013's radar. Dark walks, old dollar bills pinned to the high ceiling, iffy restrooms, cheap drinks and no-nonsense staff, an aces soundperson (Nicholas) and booking agent (Michelle), space for the bands to set up and get ready, and a sense that this was a big show in an intimate space.
And Ethel. Ethel was a bartender who passed away decades ago. She didn't want to leave the place, and made that clear. She didn't...her ashes rest encased in the bar's corner stool, in whatever peace the Comet can offer.
Ian knows about Ethel. He's alone among the Comet's suitors that does. Even the Comet's landlord's attorney didn't know about Ethel.
Our Ian's quest was simple: save the Comet. Run it for the musicians and their fans. If Ian had wanted to be a nightlife baron, he'd already have a bar. His hopes -- and ours -- was about our rock'n'roll hearts and souls having a home in Seattle, and not about making money.
​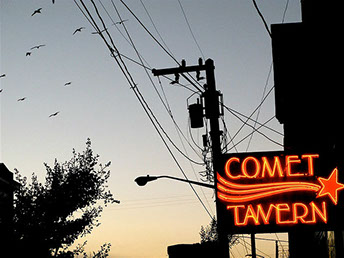 We didn't know until yesterday that Ian's quest was a quixotic one. In the least surprising development, let's see, ever, the Comet was sold to a bidder who offered four times what Ian and his investors could.
Weeks ago, when news first broke about the Comet closing and Ian being one of the bidders, someone wrote a comment at the bottom of a Seattle Weekly story:
I hope whoever buys the Comet keeps it a rock'n'roll club, and doesn't turn it into a "rock'n'roll club."
So eloquent, succinct, dead-on. I probably should have saved all the words in this missive, and just run with this perfect one-sentence analysis.
I didn't because it leaves out Ian -- his quest, his heart, and the clear understanding that Ian was Seattle's best hope for keeping the Comet a rock'n'roll club.
November 6, 2013
Kanye West is an idiot.
Now there are plenty of incidents, quotes, lyrics, videos, appearances, personal affairs, lack of discretions, self-image issues and aesthetics that ol' Jeezy can be called out on.
This missive is about the latest of West's aesthetic choices -- his embrace of the Confederate battle flag -- the Stars'n'Bars -- as his own.
A tee-shirt being sold on West's current tour has the Confederate flag with a skull and the legend "I Ain't Comin' Down"
​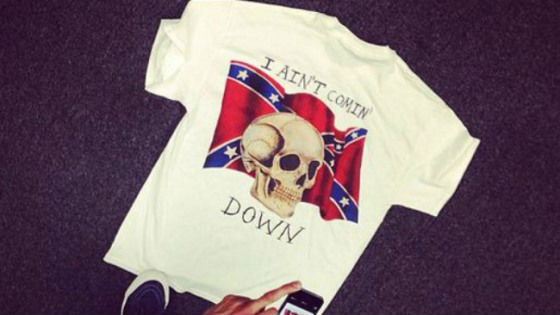 West -- self-absorbed as ever -- has this to say:
React how you want. Any energy is good energy. You know the Confederate flag represented slavery in a way--that's my abstract take on what I know about it. So I made the song "New Slaves." So I took the Confederate flag and made it my flag. It's my flag.
Now what are you going to do?
First, this isn't an "abstract take" kind of issue. This is serious and straight forward and, absolutely refuting all attempts at a pun, an unyieldingly black-and-white issue.
The flag was the banner flown by the Confederate States of America's army in defense of a slavery-endorsing nation. Outside of the Ku Klux Klan it was mostly relegated to the 19th century. The Confederate flag made a big comeback in the 1950s and '60s when southern states re-deployed the Stars'n'Bars to taunt the civil rights movement. It was a burning-cross firewall against integration and the rights of people of color.
It's not your flag, Kanye. It will never be your flag. It's controversy for controversy's sake. Controversy for merch-sales sake. Controversy for headline-grabbing sake.
What are we going to do about it, you ask, Kanye? Point out what a colossal asshole you are.
​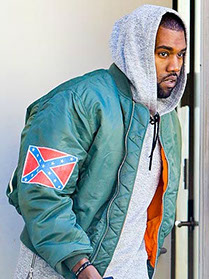 Besides West's galling misappropriation of the Confederate flag, he's giving cover to all of the regressives who shout and scream that the banner is just about celebrating Confederate heritage...that it's not racist...that the Confederacy wasn't racist...that its inclusion in state flags during the Civil Rights era wasn't racist.
None of those things is true.
Kanye is a very confused guy when it comes to politics. He wore the bomber jacket (pictured above) to a Barney's New York store in Beverly Hills as a difused protest against the company's recent racial-profiling episodes. Fine, good, Barney's New York should be confronted. And Macy's for the same transgressions. But here's a guy who lives with such opulence that his new song "New Slaves" -- partially about our society being strung out on consumer goods -- goes flat via West's hypocrisy.
Maybe Kanye's paying tribute to all of those B-52 bomber pilots in Confederate air force at Gettysburg and Antietam. Who can tell with a guy whose tour features Jesus of Nazareth climbing on stage to have a chat.
This act of Kanye's is selfish and stupid and astonishingly tone deaf. It's also sad to see commentators celebrating the West's marketing acumen. That's the age we live in -- marketing trumping decency.
"The world is controversial," Yeezy says about his brand new flag. "The world is classist. The world is racist."
And Kanye West is doing his best to keep it stay that way.
November 5, 2013
Football -- the kind played here in the U.S., where feet rarely touch the ball -- won't look like this in another generation.
Concussions and brain damage are the big reason. An expert in a recent PBS Frontline documentary says that the average NFL player absorbs the impact of a 35mph car crashing into a brick wall on average 1,500 times a year. For college, high school and youth players, it's fewer and slower, but still dangerous and life-changing.
The other element is the culture of the game. The Miami Dolphins' Jonathan Martin has left the team for emotional counseling after another player, Richie Incognito, heaped abuse on Martin. It went beyond "hazing" and "bullying," the words we've come up with to soft-sell highly stylized assault and battery. Incognito's attacks on Martin involved racist messages and threats to Martin and his family.
There's been a tidal wave of commentary saying, in effect, "hey, man, don't blame football for a few bad apples." That's faulty thinking, because today's football thrives on macho, misogynistic brutality. There's no football without the ginned-up aggro that players are taught for their very earliest years.
Could football exist without it? Could it be played without the proto-militarism that courses through the game? Sure.
Do most football fans want a game based on skill but absent the purile infantile behavior that coaches and players believe is the only way to gain a competitive edge? Unlikely. The NHL could stop on-ice fighting in a heartbeat, but won't because they believe it's what fans want. The same with the NFL, whose only strategy when controversies erupt is to hope desperately that it just...goes...away.
The U.S.'s sports culture is dependent on aggression. Even the logos on caps and helmets have changed. A generation ago, an eagle or husky might have been a simple, non-expressive rendering. Now they're growling, drooling killers. Worse, young athletes believe they gain an undeniable edge by dressing head-to-toe in Darth Vader black with uber-aggressive logos perched just above the Nike or Under Armour logo. (To be sure, it's Nike and Under Armour that have worked very hard to instill that idea.) Training, strategy, conditioning and desire aren't nearly enough. The uniforms need to be stormtrooper cuts with pro-military cuts.
Take a good look at Richie Incognito. He might not me the face of football in the U.S. today, but he's the face of the game's underlying bloodstreams. Veins flowing with bile and brutality, ingredients that too many believe to be the oxygen our country breathes.
Either the game changes for the better, or our nation continues to change for the worse.
November 3, 2013
Heathah Josepowitz, New York City's best unpublished rawk critic and social commentator (think Jonathan Swift sharing an apartment in Queens with Lester Bangs) sent us this article today. For musicians, it's another indicator that A) things ain't like they were; and b) our job continues to be devalued by most everyone who uses our services.
There's no grieving here for the music industry dying. The part where musicians ourselves get hit hard, that's a different story.
Go here to read Edward Helmore's must-read piece about the potential death of the Album. Here's the key para:
"The album is dying in front of our very eyes," industry commentator Bob Lefsetz wrote. "Everybody's interested in the single, and no one's got time to sit and hear your hour-plus statement."
Another nail in the coffin. The hammer? Our TwiftterYouTube short-attention-span habit.
Just one of many hammers, in fact.
October 31, 2013
Happy Halloween! It's a great holiday, and maybe more than any other, we get to be kids year after year.
Remembering back to our band years in New York ('80s through the '00s), seeing wildly costumed people on the subway was terrific. Not because there were wildly costumed people on the subway, but the utter disinterest of everyone else on the subway. New Yorkers are self-consciously stoic, until a) we're personally insulted or b) the city is. The surface indifference to Halloween revelers waiting for the doors to open was a vast urban coverup.
Here's to those moments, and hopes your Halloween tricks and treats are scary good. Hint: always choose the trick.
​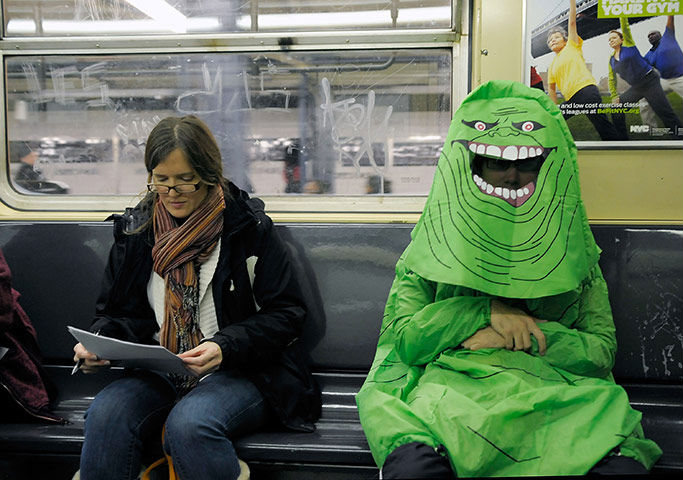 October 30, 2013
Scott here...
When you join a band, you go places.
Not just geographically, but emotionall, culturally, politically and commercially.
In many cases, our road cases are our passport stamps. 'Specially now that passports don't get stamped.
Here's my chords'n'strings'n'cables'n'pedals'n'set lists'n'batteries'n'pickes'n'loose change'n'Sharpies'n'geetar-fixit tools case. I've had it since the mid 1980s when I roadied for the Richmond, VA band The Good Guys -- an amazing groundbreaking band that predated Fishbone and the Black Rock Coalition. There's precious little about The Good Guys on the webs, and that's a culture crime that we're all guilty of.
Here're the stickers that have ended up on the case. I try not to cover up the old with the new. This is a living, breathing and very, very sturdy quarter-century-old document.